Siddha Medicine & Treatment for COLD.
COMMON COLD ( In Tamil:"இருமல் சளி or ஜலதோஷம்") is the most common illness in every house hold. Infants and children are affected more often and experience prolonged symptoms than adults. Coughs and colds are usually caused by a viral infection. They normally clear away on their own, and antibiotics are usually of no use.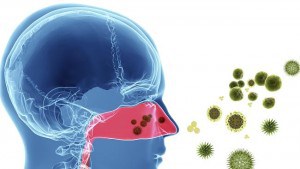 Even before and after the discovery of germ theory and cell theory, the humoral principle put forward by  Siddhars, the great scientists and proponents of Tamil Siddha Medicine System, still holds true. The ancient medicine Siddha and Ayurveda system uses a methodology called "உரை மாத்திரை" urai mathirai . The "urai mathirai" is something that acts like vaccines, to our wonder this method has been in existence even before discovery of vaccines.
The main reason for most of the people choosing ethnic medicines like Tamil Siddha and Ayurveda for handling cold and cough is due to its simplicity. The Indian medicine system Siddha and Ayurveda handles cold and cough with simple spices at home or by easily available herbs around us. Moreover another foremost reason for choosing ethnic medicine is that it has less or no side effects when compared to usage of antibiotics.
In Siddha Medicine, common cold and cough are called a kapa diseases (கப நோய்கள் or சிலேத்தும பிணிகள் ) i.e disease which affects upper respiratory tracts due to vitiation of kabam pulse according to siddha humoral pathology. Colloquially speaking, they are called "இருமல் சளி " . Another way of saying is "ஜலதோஷம்", which derived from original Tamil word "சல தோடம்". Here சலம் means constant motion (of infections). தோடம் means resulting impairment in body.
What is common cold?
"முற்றிய நுரையீரல் பாதைத் தடைநோய்" (Chronic obstructive lung disease – COLD).

The common cold is a group of symptoms caused by a number of different viruses. There are more than 100 different varieties of viruses that cause colds include, rhinoviruses, enteroviruses (echovirus and coxsackie viruses) and corona virus. Because there are so many viruses that cause the symptoms of the common cold, people may have multiple colds each year.
The common cold may occur at any time of year, although most colds occur during winter months, regardless of the geographic location. Cold climates or being exposed to cold air does not cause common colds.
According to humoral principle of Siddha Medical system, cold is manifested in the body when the infective virus impairs the kapha dosha. This in fact throws the normal balance of vata, pitha and kapha ratio out of balance causing cold, cough & fever in this case.
Common cold symptoms in Siddha Medicine.
Siddhar Agathiyar in his siddha medical literature "அகத்தியர் நோய் சாரம்" "AGATHIYAR NOI SAARAM" , describes the symptoms as follows,
ஒடுக்கமாம் சிலேத்தும நாடி ஒழுங்கொடு பதறிநின்றால்
நடுக்கமாய் பீனிசங்கள் நாசிநீர்ப் பாய்ச்சலாடும்
பிடித்திடும் மண்டைச் சூலை பொருந்திடுந்த் தலைகனப்பு
–அகத்தியர் நோய் சாரம் .
We have tried to provide the essence of the Siddhar's poem in English by interpreting the text in English through research & investigation. We have used the modern terminologies & technical words of the latest science to give the readers a better understanding and assimilation. If found any errors, kindly bear with us & help us rectify.
When the "சிலேத்தும நாடி" silethuma naadi or kaba naadi goes out of balance following things will happen,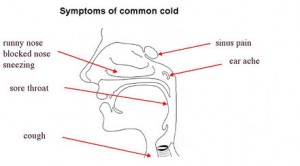 நீர்ப் பாய்ச்சல் (Naasi neer paaychchal )– Runny nose.

மண்டை சூலை (Mandai soolai )- Headache.

தலைகனப்பு (Thalai Kanappu ) – Heavy headedness.

நாசியழற்சி (Naasi alarchi) –Rhinitis.

குரல்கம்மல் (Kural Kammal) – Sore throat or Strep throat due to throat infections.
In a similar manner according to Siddha Medicine literature "அனுபவ வைத்தய தேவரகசியம்", a Medical literature based on time tested practices of Siddhars on Siddha medicine, kaba naadi imbalance leads to following:-
வாத குரல்கம்மல்.

பித்தக் குரல்கம்மல்.

சிலேத்தும குரல்கம்மல்.

திரி தோசக் குரல்கம்மல்.

சய குரல்கம்மல்.

மேதோக் குரல்கம்மல்.
The above types can be correlated to the classifications of modern medicine as
laryngitis

Pharyngitis

Tonsillitis

Strep throat

Adenoditis

Uvulitis
Siddhar Dhanvantari in his Siddha medical literature "Dhanvantari Naadi" has described the signs and symptoms of common cold under kaba diseases as follows.
சேத்துமஞ் செய்குணங் கேள் சில்லென உடம்பு வேர்க்கும்
மேற்றமாய் மிகநீரூறி இனித்து நா வழுவழுக்கும்
நாற்றம்நீர் மாய்ந்துவீழும் நலம்பெற வெளுக்கும் மேனி
தோற்றுமிக் குணங்கள் கண்டார் சிலேற்பனத்தொகுதியாமே
–தன்வந்திரி நாடி (பதினென் சித்தர்கள் நாடி சாத்திரம் )
Symptoms of Kaba diseases:
Thick greasy yellow coat on the tongue.

Post-natal drip and bad breath.

Body may go to slight paleness.

Production of excess saliva in mouth.

Sweating with drop in body temperature intermittently.
Again, Siddhar Yugimuni in his Siddha Medicine literature "Yugimuni Vaithiya kaaviyam" has explained the symptoms for common cold as follows,
சீதமாம் ஒன்று செறி இருமலாம் ஒன்று
ஓதமாம் அன்ன மந்தம் ஒன்று போதக்
கனல் விளைக்கும் ஒன்று கருது குணம் ஐந்தும்
அனல் விளைக்கும் ஐயம் தனக்கு
–யூகிமுனி வைத்திய சிந்தாமணி
Symptoms of Common cold:
Chills which usually precede fever.

Mild to severe cough.

Weak digestion or digestion problems like constipation, diarrhoea etc.

Mild-to-moderate fever (i.e. Rise in body temperature).
Common cold complications:
Most of the people who have colds do not develop complications. However, people should be aware of the signs and symptoms of potential complications.
Following are the complications one can develop if cold is left untreated.
ஈளை (Excessive mucus causing respiration problem)

சுவாச காசம் (Asthma)

மூச்சுத்திணறல் (breathing trouble).

மூச்சு குழாய் அழற்சி (Bronchitis ).

மூச்சுநுண்குழாய் அழற்சி (Bronchiolitis).

காச நோய் (Tuberculosis ).

சாய ரோகங்கள் (Tuberclosis) (கபவாதம்).

அடிநா அழற்சி (Tonsilitis).

தொண்டையழற்சி (Pharyngitis).

குரல்வளை நோய் தொற்று (laryngitis).

நெடுங்கால சுவாசஅடைப்பு நோயில் (COPD).

மேல் சுவாச பாதை நோய் தொற்று(Upper Respiratory Tract Infection).

கீழ் சுவாச பாதை நோய் தொற்று (Lower Respiratory Tract Infection).

விழி வெண்படல அழற்சியில் (Viral conjucntivitis).
Why Siddha Medicine is best for cold & cough?
As we already discussed cold & cough are common diseases prevailing every household. In those days it was simply handled at home with spices and herbs in and around us. But now we rush to pharmacy to buy medicines, the usual drug taken by a person suffering from cold is mostly OTC drugs like vicks action 500, corex etc. Recently government of India has banned fixed drug combination i.e. medicines like vicks action 500 extra, corex. The Ministry of health said that 300 drug combination including vicks action and corex pose a risk to humans and banned the same for sale.
The ancient Siddha & Ayurveda medical system can handle diseases purely on herbs. The combinational blend of herbs acts in synergy to subside the infection with its own natural antibiotics. Simple herbs like tulsi, pepper and turmeric are base combinations to get rid of cold.
Siddha Treatment for Cold & cough:
Siddha system is replete with medicines and methods to cure cold and cough. The popularity of Siddha treatment of handling cold, cough and fever can be observed from the fact that, even grandma's home remedy has it in every house hold. patti vaithiyam, nattu vaithiyam, kai vaithiyam or kai maruthuvam all utilses the medicinal arsenal of siddha system only.
The Siddha approach to preventing illnesses is by building up the immune system and toning the body to withstand viral attacks.
Siddha medicine system employs both internal and external siddha medicines in curing cold, cough & fever.
surasam சுரசம் –

Boiled single drug or compound herbal juice.

saaru சாறு

Raw single or compound herbal juice or extract.

kudineer குடிநீர்


Decoction of dried or raw single or compound herbs.

Ennai எண்ணெய்


Medicated oils of herbs.

mathirai மாத்திரை


Pills or tablets

mezugu மெழுகு


Waxy consistency medicines.

kuzhambu குழம்பு


Medicines of semi liquid consistency.

Chenthooram செந்தூரம்


Micro pulverized herbo-mineral compounds are incinerated inside glass container to get red in color.

parpam பற்பம்


Calcinated herbo mineral Medicines or incinerated white powder or herbal extract treated metallic medicines.

kattu  கட்டு


Solidified or consolidated preparations from all metals of herbal titurated or treated single or compound mixture.

kalangu  களங்கு


Medicines of mercuric origin.

chunnam சுண்ணம்


Medicines of caustic or alkali origin.

External Siddha Medicines:

Topical applications like kalimbu(Ointment) ,

patru (Poultice)
E.g. patru of turmeric powder and slaked lime on the forehead and paranasal region of the face is a common practice in sinus relief.
Nasal applications like Nasiyam (Nasal drops & nasal insufflations Naasigaabaranam)

ophthalmic applications like mai anjanam (eye darkener)

Kalikkam (eye drops)

Vedhu (steam therapy)

Pugai (fumigation)

Yellow orpiment is triturated with the bark and leaf juice of Cassia fistula with little addition of water into a fine paste and applied on a cloth and dried. The cloth is rolled into cigar and lit. The emanating fume is inhaled to arrest uncontrolled cough.
Siddha Home remedies for cold, Cough and Sore Throat.
Fresh extract of Abrus precatorius (குண்றிமணி- ratti, crab's eye) root is said to be good in cough. roots of this plant (10g) are ground or scrubbed with water (10ml) on a grinding stone and given orally for three days.

Decoction (10ml) prepared from equal amount of coriander sativum leaves கொத்து மல்லி, cuminum cyminum சீரகம் and acorus calamus roots வசம்பு  can be taken after meals, even children can take it.

A mixture of adhatoda zeylanica(ஆடாதோடை ) leaf juice (6ml) and honey தேன்(4ml) is given in cough and sore throat.

Allium cepa (வெள்ளை பூண்டு) bulb juice with honey is very effective in cough and colds. for this, freshly prepared, 1 teaspoonful juice of raw allium cepa mixed with 11/2 teaspoonful of honey should be taken. can be given to children suffering from cough.

Add equal amounts of curcuma longa (மஞ்சள்) rhizome powder 5 gm and pepper (மிளகு) powder  5 gm to milk and boil. the boiled turmeric pepperd milk can be taken two to three times a day for cold and cough which is highly effective.

In whooping cough, equal amount of piper longum (மிளகு) fruit powder, zingiber officinale(இஞ்சி) powder and Terminalia bellirica (கடுக்காய்) powder is mixed and taken along with honey.

In dry cough, ripe psidium guajava(கொய்யா ) fruit should be taken twice a day.

A decoction of coriander sativum (கொத்து மல்லி), cuminum cyminum (சீரகம்) and sap of ocimim sanctum (கருந்துளசி) can be taken too cure cough.

Citrus medica (நாரத்தை or எலுமிச்சை) fruit juice, a pinch of roasted Ferula foetida (பெருங்காயம்), Terminalia Chebula (கடுக்காய்) fruit powder (1 g), Terminalia bellirica (தான்றிக்காய்) fruit powder (1g), Emblica officinalis நெல்லிக்காய்(1g), Glycyrrihiza glabra  அதிமதுரம் powder (2gm) mixed thorughly, and can be taken two times a day.
Disclaimer
All the Tamil explanations and definitions made are based on the Siddha literature. We have used terminologies and definitions from modern medicine in order to help the readers absorb the right essence. Siddha literatures are thousands of years old that were postulated, based on then existed scenarios. The postulates framed then, may or may not be in coherence to today's world, because as humans have travelled a long path of evolution. Such evaluations have rendered immense changes to humans mentally and physically. So we kindly request readers not to be in the prejudicial mindset while reading the postulates.
Source
http://www.dnaindia.com/money/report-all-you-need-to-know-about-health-ministry-s-fixed-dose-drug-ban-2189502

http://www.thehindu.com/business/Industry/pg-stops-sale-of-vicks-action-500-extra-after-government-ban/article8356024.ece