Sundaranandar Siddhar (சித்தர் சுந்தரானந்தர்)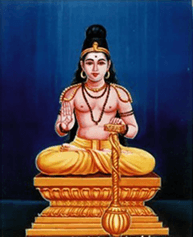 Sundaranandar  Siddhar is one of the celebrated Siddhar among the 18 Siddhas.
He is the one behind the popularity of Sathuragiri hills in the Western Tamil nadu.
He also disciplined under Siddhar Agathiyar and got a Shiva linga from him, which he installed in Sathuragiri hill as "Sundara Mahalingam" and worshiped it for long.
He was born to navaganda rishi, who lived in Kishkinta hill region.
Sattaimuni siddhar is also his preceptor and he learnt Siddha medicine, Siddha yoga, Siddha gnana, astrology from him.
He along with his guru Sri Sattaimuni Siddhar lived in Sathuragiri hills for some time and compiled his works on Siddha medicine and astrology.
Exploiting his deftness in the field of astrology, he has given appropriate general predictions on the day of birth, day of attaining puberty etc.
In his another work, he has depicted auspicious days for cultivating mango, coconut, banana, sugarcane, lentils etc. for the maximum yield.
Manaiyadi Saasthiram put forward by him gives appropriate ways to construct house to lead a hale and hearty life.
His works on poison treatment and preparation of universal salt muppu are valuable to Siddha medicine system.
Siddhar Bogar in his work Bogar 7000 says, Siddhar Sundaranandar is an expert in space travel and deep meditation i.e… samathi yoga.
Sri Sundaranandar had two disciples Sri Paramanadar and vaalai Siddhar.
He attained samathi in Madurai.
Sundaranandar Siddhar Works/Books on Siddha Medicine:
சுந்தரானந்தர் காவியம் Sundaranandar kaaviyam
சுந்தரானந்தர் விஷ நிவாரணி Sundaranandar vishanivaarani
சுந்தரானந்தர் வாக்கிய சூத்திரம் Sundaranandar vaakiyasoothiram
சுந்தரானந்தர் வைத்திய திரட்டு Sundaranandar vaithiyathirattu
சுந்தரானந்தர் கேசரி Sundaranandar kesari
சுந்தரானந்தர் சித்த ஞானம் Sundaranandar siddhagnanam
சுந்தரானந்தர் தீட்சாவிதி Sundaranandar theetchavithi
சுந்தரானந்தர் பூசாவிதி Sundaranandar pooja vithi
சுந்தரானந்தர் அதிசயகாரணம் Sundaranandar athisaya kaaranam
சுந்தரானந்தர் சிவயோக ஞானம் Sundaranandar sivayoga gnanam
சுந்தரானந்தர் முப்பு Sundaranandar muppu
சுந்தரானந்தர் தண்டகம் Sundaranandar thandagam